Our History
We are Faithful Citizens.
As Catholics, we are called to promote and advocate for the common good.
In 1976, Raymond G. Hunthausen, Archbishop of Seattle, formalized the Washington State Catholic Conference (WSCC) in order to foster a unified Catholic voice on public policy issues.  Archbishop Hunthausen, Bishop Bernard Topel of Spokane, Rev. Fred Brenner, temporary administrator of the Diocese of Yakima, and Auxiliary Bishop Nicholas Walsh of the Archdiocese of Seattle were among those on the initial WSCC Board of Directors.
On July 1, 1976, Rev. Harvey MacIntyre was appointed as the first executive director of the WSCC and served until his resignation in 1987.  Mr. Ned Dolejsi succeeded him and served for nine years.  In 1997, Sr. Sharon Park, OP, was appointed executive director and served until retiring in the fall of 2017.  Joe Sprague served as the executive director from 2017 to 2019. The current WSCC executive director is Mario Villanueva, and he was appointed in 2019.
Fr. Harvey McIntyre, first Executive Director of the WSCC, with Governor John Spellman, circa 1983.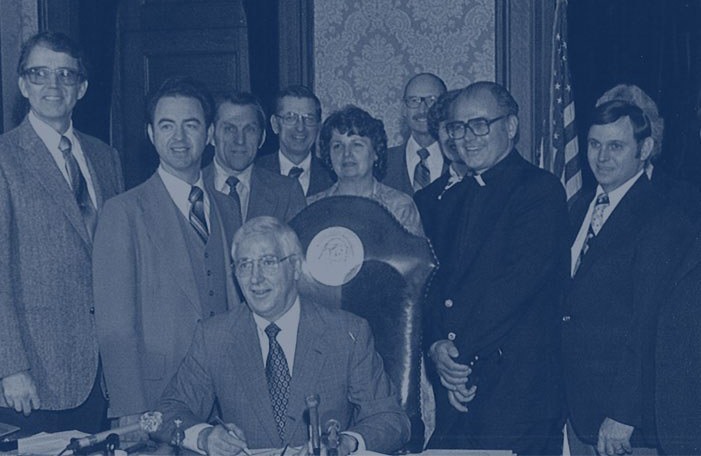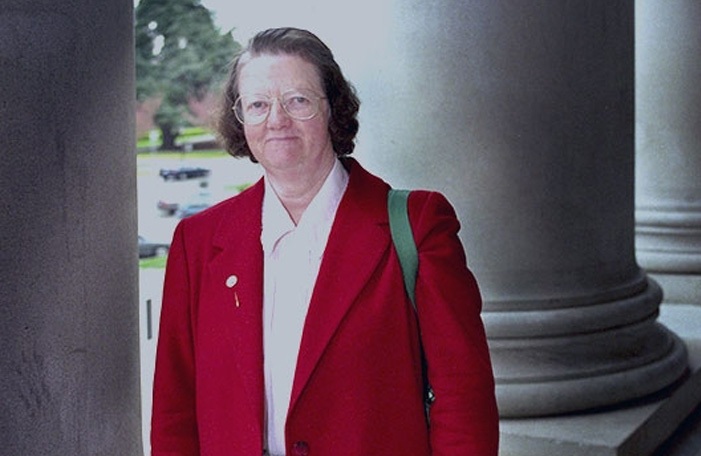 The WSCC has sought to protect human life by opposing expansion of abortion, legalization of assisted suicide and ongoing use of the death penalty. The WSCC has also been involved in upholding the sanctity and dignity of human life at every stage by supporting efforts to reduce poverty, establishing the Volunteer Chore Program, securing funding for the General Assistance Unemployable program, the Basic Health Program, and the Housing Trust Fund.
The WSCC continues to work for the common good and to create a society that recognizes the dignity of every human person by advocating for human life, education, social justice, and religious freedom in accord with the Gospel mandates and the teachings of the Catholic Church.
Sr. Sharon Park OP, Executive Director 1997-2017, started at the WSCC in 1977.